[av_layout_row border=" min_height_percent=" min_height='0′ color='main_color' mobile='av-flex-cells' id=" av_element_hidden_in_editor='0′ mobile_breaking=" av-desktop-hide=" av-medium-hide=" av-small-hide=" av-mini-hide="] [av_cell_one_half vertical_align='middle' padding='30px' padding_sync='true' background_color='#59c5ff' src=" attachment=" attachment_size=" background_attachment='scroll' background_position='top left' background_repeat='no-repeat' mobile_display=" custom_class="] [av_heading heading='Dr. Adriana Rosato: Pediatric Dentist San Jose, Ca' tag='h1′ style='blockquote modern-quote' size=" subheading_active=" subheading_size='20' padding='0′ color='custom-color-heading' custom_font='#fff583′ av-medium-font-size-title=" av-small-font-size-title=" av-mini-font-size-title=" av-medium-font-size=" av-small-font-size=" av-mini-font-size=" custom_class=" admin_preview_bg="][/av_heading] [/av_cell_one_half][av_cell_one_half vertical_align='bottom' padding='0′ padding_sync='true' background_color='#59c5ff' src=" attachment=" attachment_size=" background_attachment='scroll' background_position='top left' background_repeat='no-repeat' mobile_display=" custom_class="] [av_image src='https://barreradds.com/wp-content/uploads/2018/11/barrera-who-we-are-dentist.webp' attachment='1887′ attachment_size='full' align='right' styling=" hover=" link=" target=" caption=" font_size=" appearance=" overlay_opacity='0.4′ overlay_color='#000000′ overlay_text_color='#ffffff' animation='bottom-to-top' custom_class=" admin_preview_bg="][/av_image] [/av_cell_one_half] [/av_layout_row] [av_section min_height=" min_height_px='500px' padding='no-padding' shadow='no-border-styling' bottom_border='no-border-styling' bottom_border_diagonal_color='#333333′ bottom_border_diagonal_direction=" bottom_border_style=" custom_arrow_bg=" id=" color='alternate_color' custom_bg=" src=" attachment=" attachment_size=" attach='scroll' position='top left' repeat='no-repeat' video=" video_ratio='16:9′ overlay_opacity='0.5′ overlay_color=" overlay_pattern=" overlay_custom_pattern=" av-small-hide='aviaTBav-small-hide' av-mini-hide='aviaTBav-mini-hide' av_element_hidden_in_editor='0′ custom_class="] [av_one_full first min_height=" vertical_alignment='av-align-top' space=" custom_margin='aviaTBcustom_margin' margin='-10px' margin_sync='true' padding='0px' padding_sync='true' border=" border_color=" radius='0px' radius_sync='true' background_color=" src=" attachment=" attachment_size=" background_position='top left' background_repeat='no-repeat' animation=" mobile_breaking=" mobile_display=" custom_class="] [av_image src='https://barreradds.com/wp-content/uploads/2018/11/top-round-corner.webp' attachment='1936′ attachment_size='full' align='center' styling=" hover=" link=" target=" caption=" font_size=" appearance=" overlay_opacity='0.4′ overlay_color='#000000′ overlay_text_color='#ffffff' animation='no-animation' custom_class='nomargin' admin_preview_bg="][/av_image] [/av_one_full] [/av_section] [av_layout_row border=" min_height_percent=" min_height='0′ color='main_color' mobile='av-flex-cells' id=" av_element_hidden_in_editor='0′ mobile_breaking=" custom_class="] [av_cell_one_full vertical_align='top' padding='0px,2%,30px,2%' background_color='#ffffff' src=" attachment=" attachment_size=" background_attachment='scroll' background_position='top left' background_repeat='no-repeat' mobile_display=" custom_class="] [av_two_third first min_height=" vertical_alignment='av-align-top' space=" custom_margin='aviaTBcustom_margin' margin='0px' margin_sync='true' padding='0px,0px,30px,30px' border=" border_color=" radius='20px' radius_sync='true' background_color=" src=" attachment=" attachment_size=" background_position='top left' background_repeat='no-repeat' animation=" mobile_breaking=" mobile_display=" custom_class="] [av_textblock size=" font_color=" color=" av-medium-font-size=" av-small-font-size=" av-mini-font-size=" custom_class=" admin_preview_bg="]
Biography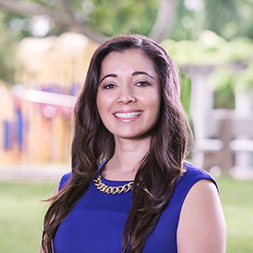 Dr. Luz Adriana Rosato's passion is providing the very best dental care to children.
A native of Colombia, Dr. Rosato completed her degree in Dental Surgery from Javeriana University before moving to California in 2002. In 2005, she completed the Clinical Trials Design and Management program from UC Santa Cruz and participated in an internship program with Stanford University Hospital.
Licensed to practice in California since 2007, Dr. Rosato joined the Pediatric Dentistry residency program at Loma Linda University in June 2014. She treated a variety of healthy, trauma and special needs patients, and served on their craniofacial team. She also engaged in community outreach programs as well as domestic and international mission trips.
After residency, Dr. Rosato and her husband settled in the Bay Area, where she has been providing care in a private practice setting to pediatric patients. A Board Eligible Pediatric Dentist, she understands the needs and concerns of her patients and is grateful to be given the opportunity to play a small part in each child's life.
Advocating for better oral health through prevention and education is also important to Dr. Rosato. She participates in community service activities with the California Dental Association, the American Dental Association and the Healthier Kids Foundation, and has held leadership positions in the Santa Clara County Dental Society.
Dr. Rosato lives in Fremont with her husband, Eugene. In her spare time, she enjoys spending time with her family, hiking, crafting and cooking new recipes.
[/av_textblock] [/av_two_third][av_one_third min_height=" vertical_alignment=" space=" custom_margin=" margin='0px' padding='0px' border=" border_color=" radius='0px' background_color=" src=" background_position='top left' background_repeat='no-repeat' animation=" mobile_breaking=" mobile_display="] [av_textblock size=" font_color=" color=" av-medium-font-size=" av-small-font-size=" av-mini-font-size=" custom_class=" admin_preview_bg="] [widgets_on_pages id="1″] [/av_textblock] [/av_one_third][/av_cell_one_full][/av_layout_row]