When you hear the phrase "root canal," what is your first reaction? Most people have a sense of pain, fear, and drama associated with such a procedure. This fear can be especially pronounced when discussing a root canal for kids.
We'd like to set that record straight: The truth is that root canal procedures are designed to eliminate pain and heal your teeth. They work to save teeth from deep infections and safeguard the rest of your mouth from the spread of those infections.
What Is a Root Canal?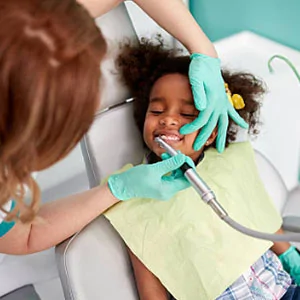 The tooth is made of many layers:
Enamel | The outer layer, or the part we see, is made of enamel. This substance is actually the hardest substance created by the human body. Yes, even harder than bone!
Dentin | Just under that is dentin, which is the material that gives a tooth its shape.
Pulp | Pulp is soft tissue, nerves, and blood vessels. It fills the center of the tooth crown, and it runs down into the roots through a canal in the center. In other words, a root canal.
If the pulp in the root canal becomes exposed to particles or infection, it can become extremely painful. While regular cavities can hurt, root infections affect the nerves of the pulp, making them much, much more painful.
To relieve that toothache, it is necessary to clean out any tooth infection, and that is exactly what a root canal treatment does. In a similar fashion to a standard cavity cleaning, a pediatric root canal procedure will:
Open the top of the tooth to access the infection.
Use a long, flexible tool that can get into the root of the tooth to clean out any infected tissue.
Replace lost tissue with a biocompatible filling.
Cap the tooth with a dental crown to seal and protect the newly cleaned tooth.
My son had this service done after a accident at school. We were so worried. But Dr. B's awesome staff got us in right away. Thank you Dr. B and to all your staff. You really made me and my son feel comfortable.

Jane Doe – Awesome Mom
Root Canal On Baby Teeth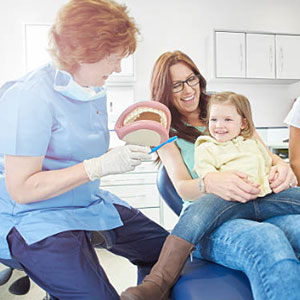 Our office specifically performs the procedure of a root canal on baby teeth. This may seem unusual. After all, baby teeth aren't permanent. Why do a root canal for kids?
Root canal infections are highly painful. A pediatric root canal will relieve that pain for your child.
Infections can spread to the rest of the tooth or to other teeth. A root canal on baby teeth will help save the health of the rest of the teeth.
While it's true that baby teeth are temporary, they are still part of a child's life for up to twelve years. That's a very long time to have a bad tooth, especially if that tooth is as severely painful as a root canal infection often is.
The health of baby teeth can directly affect the health of the permanent teeth that grow in afterward. A root canal on baby teeth can help your child's future dental health as well.
A root canal for kids will not be a tragically painful procedure. In fact, it works very much like a traditional cavity filling. A pediatric root canal is nothing to be afraid of.
Root Canal For Children in Campbell, California
If your child is experiencing severe tooth pain, a pediatric root canal may be necessary. Don't hesitate to call our office for an appointment. Let us help your child receive the pain-free and healthy smile they deserve.