Need Some Advice?
If you have questions or need advice, we are just a phone call away. Plus we have put together a few words on the most common questions about pediatric dentistry in the articles below.
Relief for Teething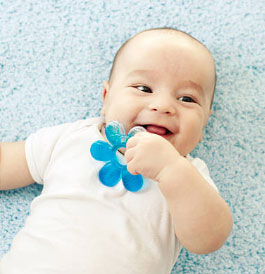 Parents can attest—teething is no fun! Pediatric dentists are often asked what can be done to help babies who are teething and parents who are kept awake at night by crying caused by painful gums. Between 6 months and 3 years of age teething is expected as is the related discomfort caused by it. Dr. Adolfo Barrera suggests a teething ring kept cool in the refrigerator or a chilled spoon or toothbrush for your child to chew on. Parents can also rub a clean finger on the affected areas or a wet washcloth to help with the pain.
Finger and Thumb Sucking
In the first few months of life, thumb or finger sucking is not a cause for concern. When the habit persists into the fifth or sixth year, however, thumb sucking can cause real problems such as a malformed bite and potential speech issues. Dr. Barrera has suggestions for those parents of children age two and above who still indulge in this common though problematic behavior.
Cleaning Babies' Teeth
The time to start a regular teeth-brushing habit is when your child's first baby teeth begin to appear. To do this, use a damp washcloth or infant toothbrush. Call our office at (408) 871-2885 to learn when it's appropriate to use toothpaste. At the start, plain water does the job. The important thing is get your child used to the routine of teeth brushing early. Plan on helping your child with the toothbrush and hard-to-reach areas until she is eight years old and can do the job herself. Even after eight years of age plan to monitor your child's teeth-brushing routine to prevent long-term problems. If you detect tooth decay (chalky white or brown spots) call our office for an appointment.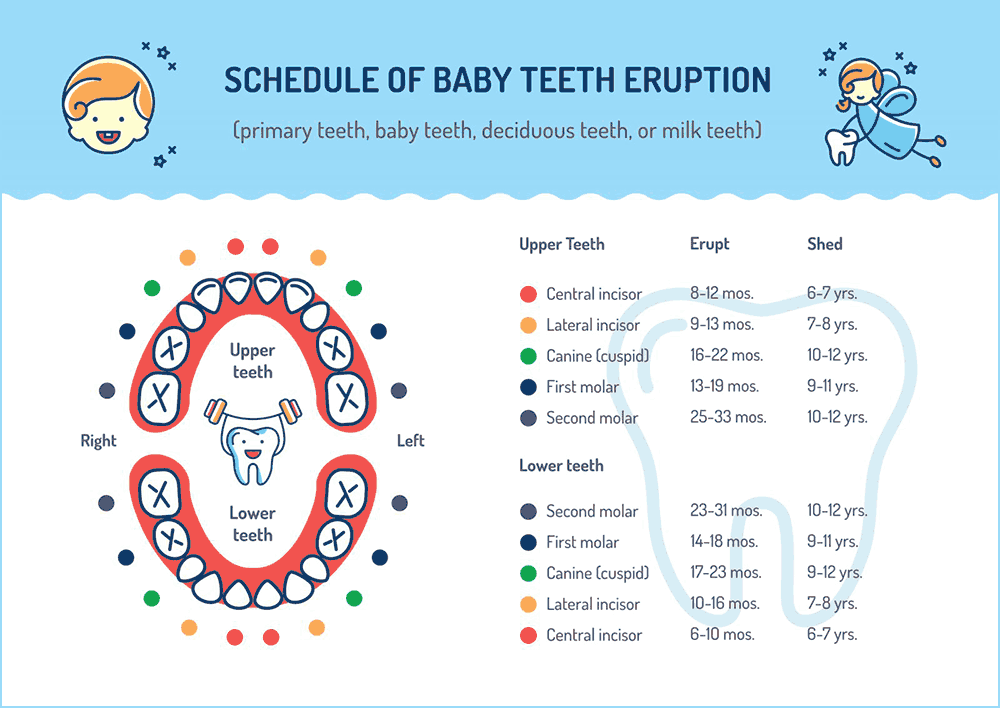 Schedule of Baby Teeth Eruption
(primary teeth, baby teeth, deciduous teeth, or milk teeth)
| Upper Teeth | Erupt | Shed |
| --- | --- | --- |
| Central incisor | 8-12 mos. | 6-7 yrs. |
| Lateral incisor | 9-13 mos. | 7-8 yrs. |
| Canine (cuspid) | 16-22 mos. | 10-12 yrs. |
| First molar | 13-19 mos. | 9-11 yrs. |
| Second molar | 25-33 mos. | 10-12 yrs. |
| Lower Teeth | | |
| Second molar | 23-31 mos. | 10-12 yrs. |
| First molar | 14-18 mos. | 9-11 yrs. |
| Canine (cuspid) | 17-23 mos. | 10-12 yrs. |
| Lateral incisor | 10-16 mos. | 7-8 yrs. |
| Central incisor | 6-10 mos. | 6-7 yrs. |
Your Child's First Visit
Plan to bring your child in for her first appointment between 6 and 12 months of age or when her first tooth emerges. Dr. Adolfo Barrera will suggest ways to clean your child's teeth and tell you what to expect during the teething years and beyond. Start the habit of regular preventative visits early—to assure your child has a beautiful and healthy set of teeth into adulthood.
Early Dental Problems
It's never too early for tooth decay to develop and grow. In fact, decay starts the very moment the first tooth appears. Baby Bottle Tooth Decay (BBTD) is common, but luckily it is also preventable. Parents should not allow their infants and babies to sleep or doze with a bottle of any sugary liquid—including formula, milk, breast milk or juice. Even breast-feeding mothers need to be vigilant about tooth decay and should not allow their children to fall asleep during breastfeeding. Once your child moves to solid foods, avoid frequent sweets or sticky foods that can also cause decay. Contact us for more information.
Prevention from the Very Beginning
From the start of your baby's life, remember not to allow your child to fall asleep during feedings, whether while nursing or bottle feeding. While some parents find putting their baby to bed with a bottle helps to foster sleep, Dr. Barrera suggests alternative ways for parents to comfort their children at bedtime. Substitutions of a much-loved toy or a blanket can be used in place of the bottle, or try offering a pacifier or a bottle filled with plain water. Also, it's important to make sure your child does not have prolonged or frequent exposure to sugary foods and liquids. Lastly, make certain your child uses a toothbrush designed just for her, with soft bristles, and that she brushes her teeth—with your help—everyday.